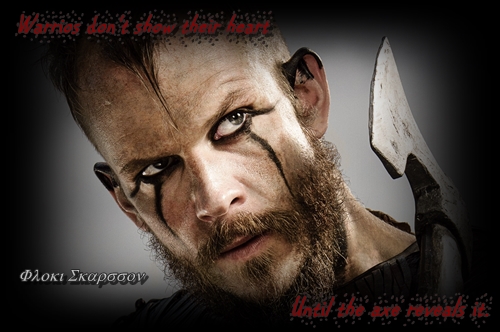 General.
•
Name:
Floki
•
Last name:
Skarsson
•
Title:
Boat Builder
•
Age:
51Y/o
•
Place of birth:
Kattegat
•
Place of residence:
Kattegat
•
Rank:
Military structure:
Viking.
Social structure:
Shipbuilder.
Family:
•
Parents:
-
Father:
Skar [Last name unknown]
-
Mother:
Unknown
•
Siblings:
Unknown
Relationship:
Married to my lovely wife Helga Hirstdóttir.
•
Appareance:
Build:
Muscular, but rather slim build.
Height:
1m84
Weight:
67kg
Hair:
Shaved bald with a small man bun on the back.
Beard
: strong, wild long grow.
Eyes:
Grey eyes.
•
Personality:
Floki is an eccentric and joyful man with a bizarre and zany air about him and is often the source of entertainment among his friends. Though this is arguably a facade to hide the more serious and emotionally troubled man brooding beneath the surface. Nonetheless, he is sincere in his loyalty to Ragnar and is respected for his sharp intellect and wisdom. so much so that Ragnar trusted him to negotiate peace talks with King Horik on Ragnar's behalf. He is regarded as an equal, if nothing less than an individual of particularly high standing among the other warriors of Kattegat. Despite his seemingly nonchalant and apparently strange facade, Floki is very dedicated and proud of his work. He finds joy and often laughs during their plunders, whether he is killing or discovering new things in the land they visit. He is a man who is devoted to his gods and lives to serve them.
However, one very important aspect of Floki's personality is his fierce devotion to the Norse Pantheon. At one point Floki quips that Loki's is his distant ancestor. Floki has shown on many occasions to be remarkably intolerant towards those who do not share his faith; particularly Christians. To him all Christians are untrustworthy and undeserving of mercy, including Athelstan, whom he often menaces and only seems to tolerate at the behest of Ragnar. In Floki's mind his faith and way of life are on a collision course with Christianity where one is doomed to be destroyed by the other. It is for this reason that he finds the idea of cooperating with the Christians or otherwise participating in their customs, even in an insincere manner such as Rollo's baptism, to be a grave betrayal to the Norse gods. He is prone to viewing many events as having religious or spiritual significance and even sees visions from his gods.
•
History:
If you want the full history of Floki Skarsson then I'd advise you to watch the Vikings Series.
A little review: (Warning Spoilers for those who have not seen the series.):
•
Faceclaim:
Gustaf Skarsgård